Podcast Series: UArizona's Place In Space with Zach Yentzer
Zach Yentzer's Tipping Point hosts a series of conversations showcasing the University of Arizona expertise in space sciences and exploration.
June 22, 2022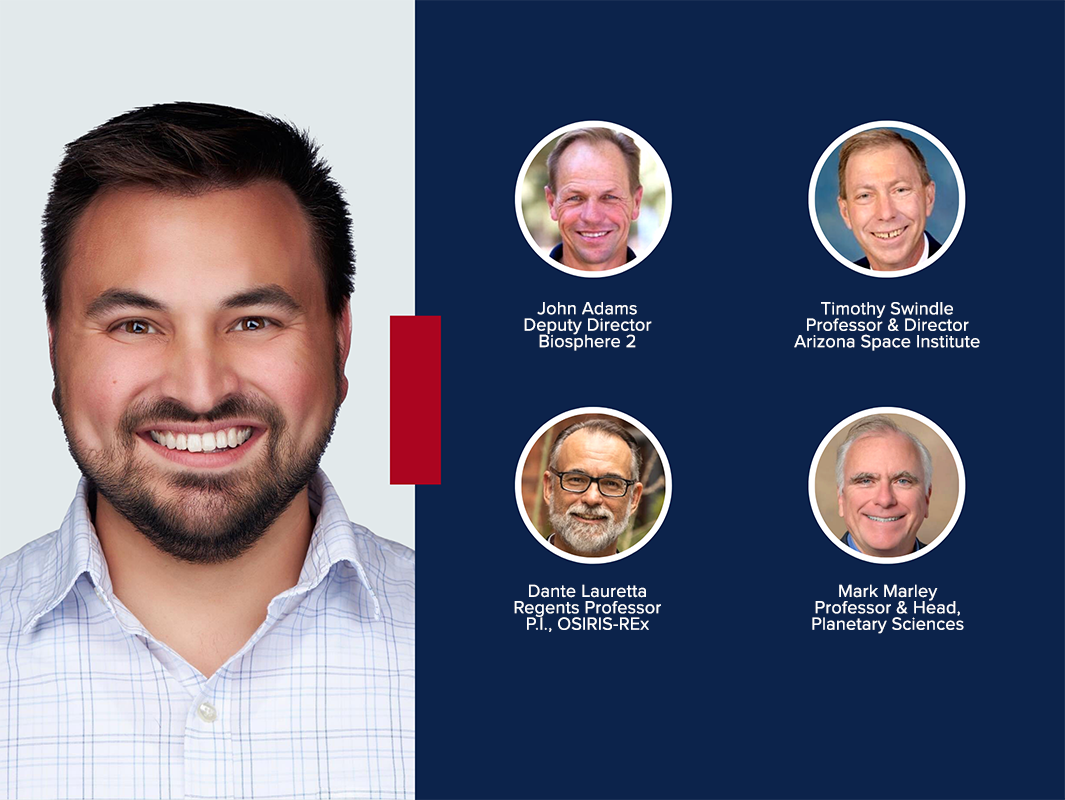 According to the Best Global Universities and U.S. News & World Report, the University of Arizona ranks as one of the top academic research institutions in space sciences.
The university is also among the nation's premier public research universities with $761 million in total research activity in fiscal year 2020, according to data released by the National Science Foundation. The NSF's Higher Education Research and Development survey annually ranks more than 900 colleges and universities and is considered the primary source of information on research and development expenditures at U.S. colleges and universities.
The university's R&D expenditures rank No. 20 among public institutions and No. 35 overall. This ranking places UArizona in the top 4% of all U.S. universities, both public and private. The university also retained its No. 1 ranking in astronomy and astrophysics expenditures at nearly $122 million. The HERD survey also ranked the university fifth in NASA-funded activity.
On a recent visit to the university, NASA Deputy Administrator Pam Melroy called UArizona a "crown jewel", referring to its "towering reputation in astronomy, planetary science and astrophysics."
During her visit, Deputy Melroy heard presentations regarding the following activities:
NASA's 

OSIRIS-REx

 asteroid sample return mission, and

OSIRIS-APEX

, which will visit near-Earth asteroid Apophis.

The Near Infrared Camera, or NIRCam, instrument onboard NASA's 

James Webb Space Telescope

.

NASA's 

NEO Surveyor

, a space-based survey designed to discover and measure asteroids and comets that could pose an impact hazard to Earth. 

NASA's 

Aspera

 mission, which will study galaxy evolution with a space telescope barely larger than a mini fridge.

NASA's 

HelioSwarm

 mission, a "swarm" of nine spacecraft that will set out to better understand plasma, the state of matter that makes up 99% of the visible universe.

The High-Resolution Imaging Experiment, or HiRISE, camera onboard NASA's Mars Reconnaissance Orbiter. 

Hyperion, a mission designed to observe molecular hydrogen in our galaxy to better understand how stars form
The University of Arizona has an extensive history in space missions dating to the founding of the Lunar and Planetary Laboratory and the first Ranger missions to the Moon.
"Southern Arizona has an unparalleled and long-standing abundance of research infrastructure and professionals," says Zach Yentzer, host of Tipping Point and executive director of Tucson Young Professionals. "We are thriving in space exploration, and I think communicating this to broader audiences is fundamental to the university mission and Tucson's economic success."
Yentzer is proud to showcase the university's space-related endeavors through a series of conversations, where he coined Tucson as the "Space City of the Southwest", alongside faculty and staff, including:

John Adams
Deputy Director, Biosphere 2
Apple Podcasts | Spotify
Dante Lauretta
Principal Investigator, NASA's OSIRIS-REx Asteroid Sample Return Mission
Professor, Planetary Sciences
Apple Podcasts | Spotify
Mark Marley
Professor & Head, Planetary Sciences
Director, Lunar & Planetary Laboratory
Apple Podcasts | Spotify
Tim Swindle
Director, Arizona Space Institute
Professor Emeritus
Apple Podcasts | Spotify
Tags