As a rapidly drying climate threatens food and agriculture systems around the globe, Arizona's agriculture industry will need innovative solutions to continue producing more food using less water.
The Commission was established by President Robbins in December 2022. Drawing from experts across the University, and from the agriculture, food production, and water industries throughout the state and beyond, the Commission will produce a set of recommendations on concrete steps UArizona can take to help make Arizona a global leader in creating and applying transformational technologies and climate-resilient sustainable agricultural and food production practices, in partnership with the desert agriculture industry.
Understand Threats
format_list_bulleted
Summarize the threats of drought and climate change to Arizona's agricultural production systems, with an emphasis on food and a robust agriculture economy.
Assess Resources
fact_check
Conduct a comprehensive and constructive review of the expertise and resources that can be brought to bear on the problem.
Recommend Actions
forward_to_inbox
Develop recommended actions for UArizona to address the issue and turn the threats into opportunities.
Engage Stakeholders
group_add
Identify & engage individuals and groups who will support and grow these efforts on an ongoing basis.
You can help! The Commission wants to hear your feedback & ideas.
The Commission values ideas and comments from the campus community and the general public. What expertise and resources (i.e., specific research, innovations, technologies, infrastructure, practices) can UArizona provide to help agriculture and food producers be as productive as possible in the face of these challenges? 
Commissioners
Chair: Paul Brierley, executive director of the UArizona Yuma Center of Excellence for Desert Agriculture
Parker Antin, associate vice president for research for the Division of Agriculture, Life and Veterinary Sciences, and Cooperative Extension​
Jim Buizer, senior strategy adviser to the senior vice president for Research, Innovation and Impact​
Sharon Collinge, director of Arizona Institute for Resilience
Laura Condon, associate professor in the Department of Hydrology and Atmospheric Sciences​
N. Levi Esquerra, senior vice president of Native American Advancement & Tribal Engagement​
Luisa Ikner, assistant professor in the Department of Environmental Science​
Sharon Megdal, director of the Water Resources Research Center​
Kim Patten, assistant vice president for Research Development​
Joaquin Ruiz, vice president for Global Environmental Futures and director of Biosphere 2​
Fulfilling Our Land-Grant Mission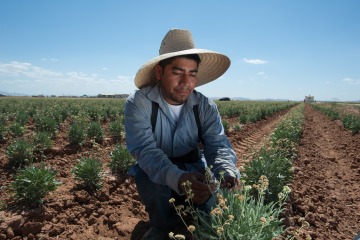 Vincente Santos, research technician in the field at the Maricopa Agricultural Center for University of Arizona College of Agriculture and Life Sciences.
As Arizona's land-grant university, we are driven to do great things. It's our passion to solve some of the Grand Challenges facing our state and the world.
But what makes us unique is how we do it. We live our purpose, mission and values every day.
"With the mandates of our land-grant mission, and hundreds of expert researchers and a multitude of world-renowned programs that can be brought to bear to address this challenge, the University of Arizona is uniquely positioned to address this critical problem for Arizona's agricultural production system and, by extension, for other arid regions around the world. I am very excited about this initiative and its potential."
—UArizona President Robert C. Robbins
"Drought, climate change and a burgeoning world population threaten the agricultural industry, food production and security and the livelihoods of many. Solutions we explore through this important commission will be applicable not only in Arizona, but in many other drying, increasingly arid and underserved regions around the world."

—Elizabeth "Betsy" Cantwell, UArizona senior vice president for research and innovation