Women Are Laying the Groundwork for A Brighter Future: Here Are Five to Connect With
March 31, 2021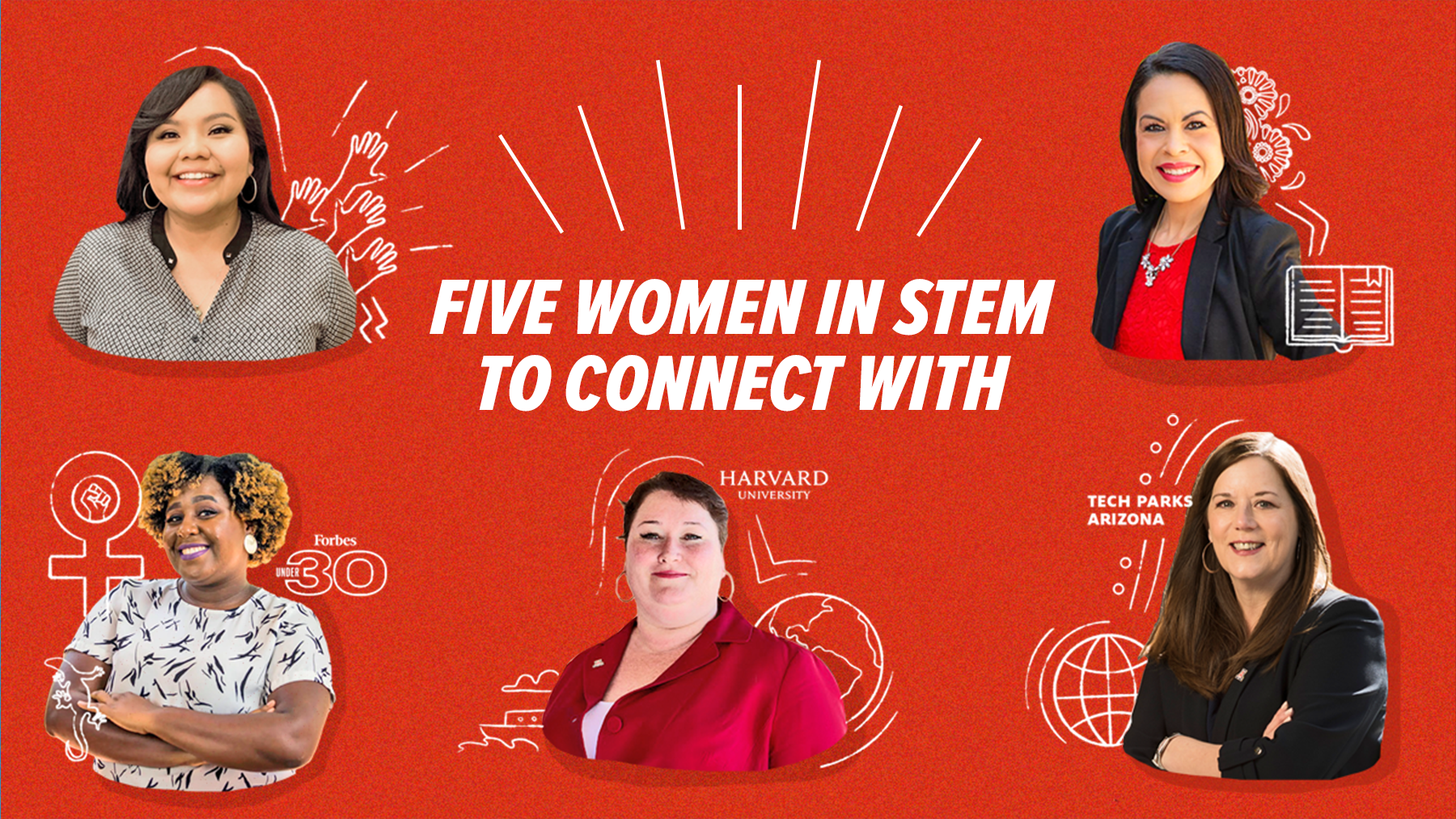 Annually, Women's History Month is celebrated in March, honoring the many who have and continue to lead the fight for women's rights. This year we owe an incredible debt of gratitude to the women throughout the world who are working to overcome the coronavirus pandemic and its accompanied struggles.
Women across the state of Arizona stand at the front lines of the COVID-19 crisis, as health care workers, caregivers, researchers, innovators, and as some of the most exemplary and effective community organizers.
It's important to recognize women's work, vision, and potential. To start, here is a list of five women in STEM who contribute greatly to the University of Arizona and our Southern Arizona communities.
Carol Stewart
Carol Stewart, a longstanding authority on research parks, serves as associate vice president for Tech Parks Arizona. Stewart leads the Tech Park at Rita Road and is developing the Tech Park at The Bridges. She is also president of the University of Arizona Center for Innovation, a regional science and technology business incubator network.
Stewart's expertise in university research parks spans decades and nations, with more than 20 years of experience working with research parks, technology commercialization, business incubation, governmental relations and business development. As a pioneer in the research parks world, she has driven national policy, standardized programs, and built technology clusters across the world. 
She is passionate about her community and serves as a champion in university-based economic development. Some of her involvements include the Southern Arizona Leadership Council, Flinn Foundation Steering Committee, the board of directors for Tucson Metro Chamber of Commerce, Pima County's Workforce Investment Board, Arizona Technology Council and Desert Angels.
Nikki Tulley
Inspired by her family and traditional upbringing on the Navajo Nation, Nikki Tulley is one of only a few female Navajo hydrologists in the world. She is pursuing a PhD in the Department of Environmental Science who has dedicated her life to tackling water insecurity and restoring balance to her homeland. 
In her life on the reservation, Tulley's work fuses the power and resiliency of indigenous methodology with Western science. Witnessed through everyday life in the reservation, she has been strongly influenced by her matriarchs, reflects with her father about the deeper meanings of life, and has worked to understand her homeland's wicked water problems.
In December of 2020, Tulley was the subject of a feature story titled Lifeblood of the People in which she explains that on the 27,000+ square mile Navajo Nation, water is never taken for granted – that It is the lifeblood of the people, animals, crops, and community networks that have struggled to survive in a harsh, beautiful desert environment over hundreds of years. This feature received an award in the Exceptional Women's Film Festival 2021 for Bridging Worlds.
Earyn McGee
Earyn McGee began her education as a field research-focused undergraduate and became a science communication sensation, advocating for conservation and inclusivity in the sciences as an American Association for the Advancement of Science Mass Media Science & Engineering Fellow while pursuing a PhD in the School of Natural Resources and the Environment.
In the summer of 2018, McGee created the #FindThatLizard Twitter game in which she challenges her followers to spot camouflaged reptiles in photos she has snapped in the field. Each post garnered thousands of likes and shares.
In response to the racism faced by Black birdwatcher Christian Cooper in the Central Park birdwatching incident, McGee co-organized Black Birders. In February 2020, Popular Mechanics chose McGee as one of 10 influential women in science communication and for science content. In November 2020, Forbes named McGee as one of their "30 Under 30" in the science category for 2021.
LinkedIn | Twitter | Instagram | Email
Joellen Russell
Joellen Russell is a professor in the Department of Geosciences, with joint appointments in the departments of Lunar and Planetary Sciences, Hydrology and Atmospheric Sciences, and in the mathematics department's program in Applied Mathematics. She was named as the Thomas R. Brown Distinguished Chair of Integrative Science in 2017.
Prior to her time with the University of Arizona, Russell was a Radcliffe National Scholar at Harvard University where she earned an AB in Environmental Geoscience. She had her first research cruise to the Southern Ocean in 1994 and spent nearly a year of her graduate career at sea there before completing her PhD in Oceanography. She earned a Postdoctoral Fellowship at the University of Washington and then spent several years as a research scientist at Princeton University and the NOAA Geophysical Fluid Dynamics Laboratory. Russell became a member of the faculty of the Department of Geosciences at UArizona in 2006, and a full professor in 2019. 
Russell's research explores the role of the ocean in the global climate, focusing on the Southern Ocean and the Southern Hemisphere westerly winds. She uses global climate and Earth system models to simulate the climate and carbon cycles of the past, present, and future. 
Russell is notably one of the 14 climate scientists behind an amicus curiae brief supporting the plaintiff in the historic 2007 US Supreme Court decision on carbon dioxide emissions and climate change, Commonwealth of Massachusetts, et al. v. US Environmental Protection Agency. This amicus brief was the only one cited in this landmark decision that established that carbon dioxide is an atmospheric pollutant, and that the EPA must regulate it.
Marla A. Franco
Dr. Marla Franco serves as the Assistant Vice Provost for Hispanic Serving Institution Initiatives. She has worked in higher education for nearly 20 years, having served in various roles within academic and student affairs to champion greater college access and degree attainment among underserved and minoritized students, which strongly informs her work today. In April 2018, Franco led efforts that resulted in UA becoming the first four-year public university in Arizona to be federally recognized as a Hispanic Serving Institution by the US Department of Education. She is now working across the university to develop a centralized vision for maximizing this designation in a way that truly benefits students, faculty, staff, alumni, and community members from diverse backgrounds. 
Currently, she is a Co-PI on an NSF INCLUDES Planning Grant focused on strengthening pathways to STEM graduate education for Latinx students. In 2017, Franco co-led efforts with faculty that resulted in UArizona becoming the first recipient of the National Science Foundation's HSI conference grant, which supported the convening of over 100 thought leaders within the Southwest region of the US aimed at transforming STEM education at HSIs. As a result, she became co-founder of the STEM in HSI Working Group, co-authored Transforming STEM Education at Hispanic Serving Institutions in the United States: A Consensus Report, and co-facilitated competitively funded adaptive case studies to achieve transformational broader impacts at the intersection of equity, STEM education, and HSIs.
Some of her notable recognitions include the Civic Leadership Award from the Community Foundation for Southern Arizona, the John Hernandez Leadership Award from the American College Personnel Association, the Edith Auslander Outstanding Support of Hispanic Issues in Higher Education Award from the Pete C. Garcia Victoria Foundation, and Hispanic Business Woman of the Year from the Tucson Hispanic Chamber of Commerce. In June 2019, Dr. Franco's exemplary leadership resulted in UArizona receiving the inaugural Seal of Excelencia, aimed at recognizing institutions that demonstrate intentional impact and success in the three core areas of work that Excelencia has determined lead to Latino student success: data, practice, and leadership.
Subscribe to our newsletter to receive featured stories and event info to connect you with UArizona's research, innovation, entrepreneurial ventures, and societal impacts.