Q&A: Stephanie Stewart Crunches Data from an Asteroid in Orbit
Get to know Stephanie Stewart, an undergraduate student whose contributions to NASA's first-ever asteroid sample return mission will help ensure a flawless 5-second operation to capture dust from the surface of the asteroid Bennu.
June 20, 2019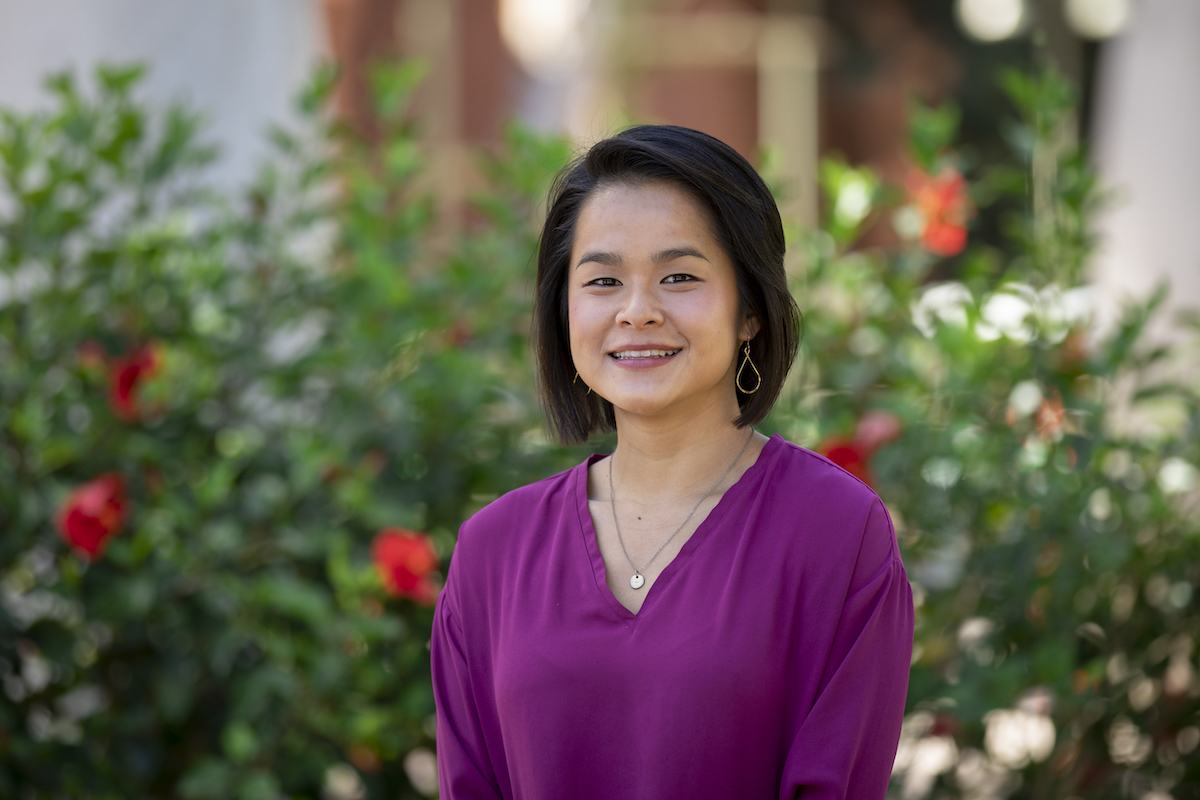 Major: Management Information Systems
Year: Junior
Career aspiration: Data Systems Analyst
Tell us about your research.
I work on team that is identifying a safe place to collect samples of the asteroid Bennu.
The OSIRIS-REx spacecraft will use a Touch-And-Go Sample Acquisition Mechanism to land on Bennu for five seconds next year and it is crucial that the site is free of hazardous rocks. In addition, the samples collected must meet certain criteria to fit within the sample return capsule. 
Currently, there are a number of potential sample sites and our team is focused on thoroughly documenting each area.
Soon I will be working on another project to help with error measurement analysis in boulder identification. This will help our team gain a better understanding of errors introduced through remote sensing techniques.
What problem do you hope to solve through your work on the OSIRIS-REx mission and why do you think it's important?
I hope to contribute to a successful mission that results in a better understanding of Bennu and our solar system's history.
One reason that scientists chose Bennu is that it could possibly impact Earth in the late 22nd century. By researching its physical and chemical properties, we can be prepared should an impact mitigation mission ever be required.
Why did you pick the UA?
I originally chose the University of Arizona for its medical program but, after discovering my interest in computer systems, I decided to pursue a degree in management information systems through the UA's prestigious Eller College of Management.
What do you like about the process of doing research?
I enjoy the team aspect of doing research. When I first began working on the OSIRIS-REx mission, I was unaware of just how many people are involved, both here in Arizona and across the world. It's an honor to be a part of the first U.S mission to bring an asteroid sample back to Earth.
What or who inspired you to go for a career data systems analysis?
When I switched over to a business degree, I knew I wanted to work with computers but I didn't know what specialty to pursue. After taking a class on management information systems, I was intrigued by the connection between the business world and cybersecurity systems. It made me want to focus primarily on the cybersecurity and security informatics side of business.
If you could have a dinner party with any three guests of your choosing (dead or alive), who would you invite?
Admiral William H. McRaven, a former Navy Seal, because he's given awe-inspiring speeches based on his time as a special operations commander

Steven Hawking because of his profound knowledge and his fighting spirit in a decades-long struggle with ALS

Thomas Edison because despite all of his failed experiments, he kept trying and was ultimately successful
What do you like to do outside of academics and research?
I really enjoy running and I hope to start training to qualify for the Boston Marathon in the next year. I also enjoy spending time with friends and exploring the outdoors.
What's been your best, most memorable moment at UA so far?
I've been a member of a UA club called Students Consulting for Non-Profit Organizations for the past year and I've had the chance to assist various non-profits.
This past semester, I helped a Brazilian capoeira dance company market themselves to tier one schools in Tucson. Capoeira is a beautiful Afro-Brazilian martial art that combines aerobatics, music, and dance. It was inspiring to learn the history of the art and be able to share it with enthusiastic kids in Tucson.
What advice would you give to an incoming freshman?
One thing I've learned in the past couple years is the importance of keeping an open mind.
Before college, I was set on becoming a surgeon, and never in my wildest dreams would I have thought I'd have the opportunity to work on a NASA mission, so I would advise incoming freshman to take chances and not shy away from opportunities that might be outside their comfort zone. As cheesy as it may sound, college is the perfect time to explore who you are and what interests you.
Subscribe to the UArizona Impact in Action newsletter to receive featured stories and event info to connect you with UArizona's research, innovation, entrepreneurial ventures, and societal impacts.