First New Telescope in 20 Years Opens on UA Campus
The telescope will be used to track satellites and other objects in space
June 27, 2017
Officials from the Air Force Research Laboratory joined staff, students and faculty this month at the "First Light" ceremony for a new student-built telescope that will be used in part for satellite observation.
The telescope, along with a second that is not complete yet, was built by five undergraduate students from the University of Arizona's College of Engineering, led by assistant professor Vishnu Reddy of the Lunar and Planetary Laboratory. The telescopes were built from the ground up to track satellites and space junk.
Reddy joined the UA faculty eight months ago, offering expertise in space situational awareness. A large part of SSA involves tracking satellites and space junk around Earth. Federal entities such as the U.S. Department of Defense do so on a regular basis. It's work that requires a large amount of observing time on small telescopes.
For UA, the new telescopes represent an opportunity to showcase our capabilities and ability to partner with federal funding agencies and industry in collaborative research. The ribbon cutting was sponsored by UA's Defense & Security Research Institute (DSRI), one of Research, Discovery & Innovation's institutes.
"This is exactly the role that DSRI plays for our researchers – matching their work with the needs of our partners. By bringing together our world-class capabilities in space and optics, along with our commitment to students through UA's 100% Engagement initiative, we can help advance our partners goals and those of the university," said Kimberly Andrews Espy, Senior Vice President for Research.  
While the UA runs more than 20 large telescopes across the globe, few of them are suited for tracking satellites. Having a telescope on campus provides an easy opportunity for student access without a trip to Kitt Peak or Mount Lemmon.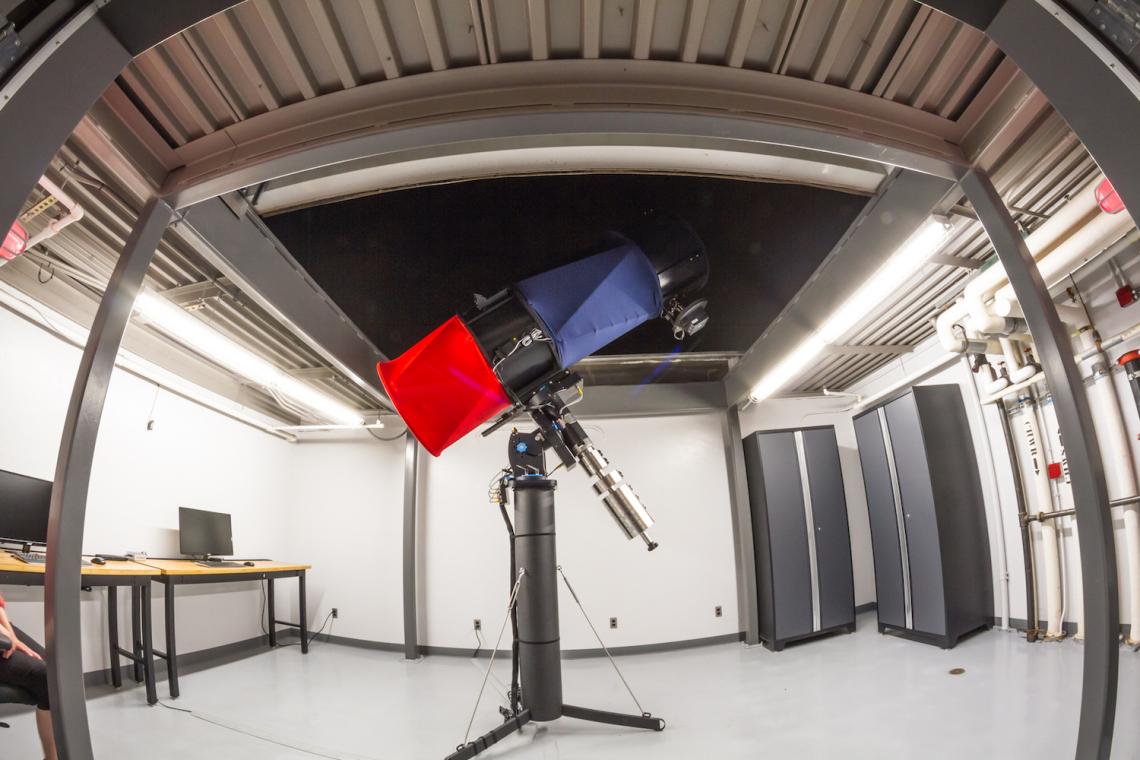 Instead of buying the telescopes off the shelf for upward of $50,000 apiece, Reddy recruited five undergraduate engineers to build them through the Engineering Design Program. Together, the students built two 24-inch telescopes in seven months for $30,000 total.
While the team was building the telescopes, Reddy was writing a proposal to the Air Force Research Laboratory, requesting funding for a spectroscopic survey of satellites in the geostationary orbit. Satellites in geostationary orbit revolve around Earth at the same rate that Earth rotates on its axis. This makes them hover above the same location on Earth.
Rather than tracking satellites as mere nondescript dots in space—which is not uncommon—Reddy will be able to use the telescopes to identify some unique color signatures of satellites, to find out exactly which one is which.
"The UA is going to be a leader in space situational awareness, and we really want to capitalize on our exceptional undergraduate students," Reddy said. "This is also workforce development. We need an American workforce that can rise to the challenges of our national security needs, and the needs of our nation."
A local astronomy business, Starizona, was instrumental in training the students and testing the telescopes' optics, Reddy said. It's the first time that a telescope has been installed on campus since the 1990s.
Subscribe to the UArizona Impact in Action newsletter to receive featured stories and event info to connect you with UArizona's research, innovation, entrepreneurial ventures, and societal impacts.