On Tucson's Tumamoc Hill, Art and Science Meet
A collaboration between The College of Science Desert Laboratory on Tumamoc Hill and UA's Confluencenter for Creative Inquiry transforms the popular walking spot into a place where artists and scientists create together.
Feb. 7, 2018
In the heart of Tucson, snowbirds whack balls on the Starr Pass Golf Club's carefully groomed 27-hole course while moms and dads and kiddos watch otters eat zucchini at the Reid Park Zoo. Nestled smack-dab between these two slices of artificial paradise is Tumamoc Hill—an 860-acre ecological preserve where, every day, 1,500 visitors walk among the Sonoran Desert's native flora and fauna.
Now, in addition to giving urbanites a respite from the artificial and giving University of Arizona scientists a place to study desert ecology, Tumamoc Hill is giving artists a place to create.
With two years' worth of funding from UA's Confluencenter, the new Tumamoc Transdisciplinary Arts Program offers opportunities for the hill to engage with Tucson's arts community, and vice versa.
"I firmly believe that, in many cases, arts and sciences are talking about the same thing, and that's wonderment about the world around us, so I think this is a natural partnership—a beautiful match," says Ben Wilder, interim director of Tumamoc Hill.
"We're creating a community of artists who are committed to the representation of the site, and who believe in its aesthetic and social value," says Javier Duran, director of the Confluencenter. "We're really excited about this and hope it's the first of many collaborations between Tumamoc and the Confluencenter."
The program creates an open, overt process for artists and scientists to connect with each other and Tumamoc. To do this, says Wilder, he's assembling a working group of artists who will meet on the hill at regular intervals to talk shop, bounce ideas off one another, and make art that tells the story of Tumamoc Hill.
"The working group will be a select group of individuals that will develop over time. I want it to grow organically and at the pace that it needs to," says Wilder.
One member of the working group, Paul Mirocha, has already been working as an artist in residence at Tumamoc Hill since 2011. Mirocha, whose father was a biologist, says he grew up spending lots of time surrounded by plants in a lab. He later went on to get a bachelor's degree in fine arts with a minor in biology.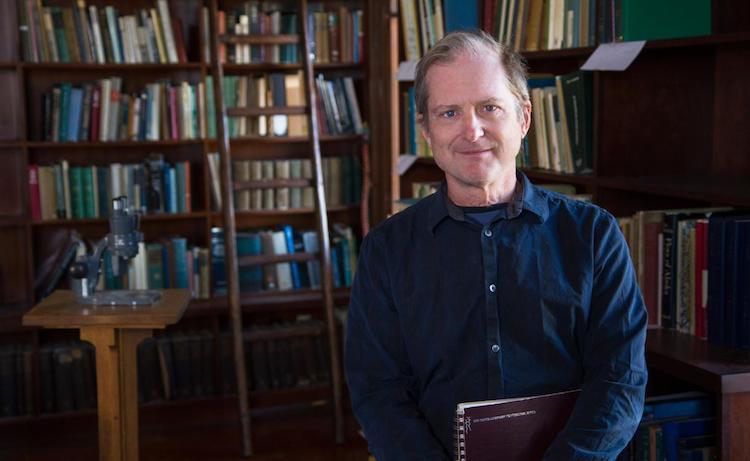 "Science is a big inspiration to me. I'm really interested in how living things grow and why they look the way they do, so Tumamoc feels kind of like home," says Mirocha, who has worked as a science illustrator for several decades.
Mirocha illustrated and co-designed the new Tumamoc Tour smartphone app, and is also the illustrator behind the educational signage that was installed in 2015 to give walkers micro-lessons in desert ecology.
As part of the new program, Mirocha and collaborating artists will teach a drawing course called "Drawing is Thinking" to be launched this year. The eight-week course will teach scientists and artists how to hone the power of observation by drawing.
"More so than teaching them how to draw, it'll teach people how to look," says Mirocha. "Drawing forces you to pay close attention to something and better understand it."
The program also provides funding for a new Tumamoc Arts Fellow, Lyn Hart. Hart, who primarily weaves wool tapestries, worked as a registered nurse for 10 years before leaving the profession in 2005 to focus on her artwork. She earned her first artist residency in 2010 at the Grand Canyon's North Rim.
 When Hart worked in labor and delivery at Tucson's Carondelet St. Mary's Hospital, she recalls first laying eyes on Tumamoc Hill: "I just felt a sense of mystery as I looked at it from our unit's operating room window."
Later she got an email from Antigone Books on 4th Avenue promoting This Piece of Earth, a collection of images and writing borne out of none other than Tumamoc Hill. She immediately went to the store and purchased the book.
"And when I saw it, I felt this burning—this hunger—to be involved in something like it," says Hart.
When she saw the call for arts fellow applicants, she knew she had to apply.
"Lyn Hart is going to bring a lot to this program. She's not only a wonderful artist, but she's passionate about desert environments and she's truly connected with the arts community," says Duran. "The program needed a person who has an organic relationship with the site—and she does." 
In addition to assembling the working group alongside Mirocha and Wilder, Hart will lead an annual juried, open call to the community for proposed arts projects related to Tumamoc Hill. Each year, her and a panel will select one proposal for an award of $3,000 to go towards the creation of the work, the first of which will be publicly debuted in fall of 2018.
"I think Tumamoc is exciting to people, but they don't always know about its history or the science here," says Hart. "I think art will be a conduit. It's accessible. It draws people in."
Says Wilder, "This arts program is a big step. Everybody—artists, researchers, people working at the hill, and community members—will benefit from this effort to make Tumamoc Hill a thriving, engaged, forward-thinking, interactive place of inquiry and sharing." 
Subscribe to the UArizona Impact in Action newsletter to receive featured stories and event info to connect you with UArizona's research, innovation, entrepreneurial ventures, and societal impacts.