UArizona Recognizes Women in Research and Innovation
Through the inaugural Women of Impact Awards, the university will embrace and empower women who through their work are addressing society's most pressing challenges.
June 10, 2022
During Women's History Month, the Office of Research, Innovation and Impact announced the Women of Impact Awards as an annual effort to embrace and empower women researchers, innovators, and community organizers, who through their work at the university, are laying the groundwork for a brighter future.
Our office received overwhelming support from faculty and staff through more than 400 nominations of exemplary women. Among other criteria, members of the class were selected by our committee based on their commitment to the university's mission and values, an application of skills toward discovery and innovation, the enrichment of our community, and the empowerment of others to ensure lasting change.
"I am delighted and honored to introduce the inaugural class of Women of Impact, comprised of 30 bold and forward-thinking leaders, who will serve as mentors to a growing network of honorees in the years to come," said Elizabeth "Betsy" Cantwell, senior vice president for research and innovation. "These women are an outstanding example of the many on campus who forge innovative pathways, powerful collaborations and remarkable discoveries that contribute to our identity as a world-class institution."
The Women of Impact Awardees will be recognized with a celebration on August 24, 3 p.m. at the Health Sciences & Innovation Building. Funds raised throughout will be used to support, recognize, and advance research and scholarship among faculty, staff, and students.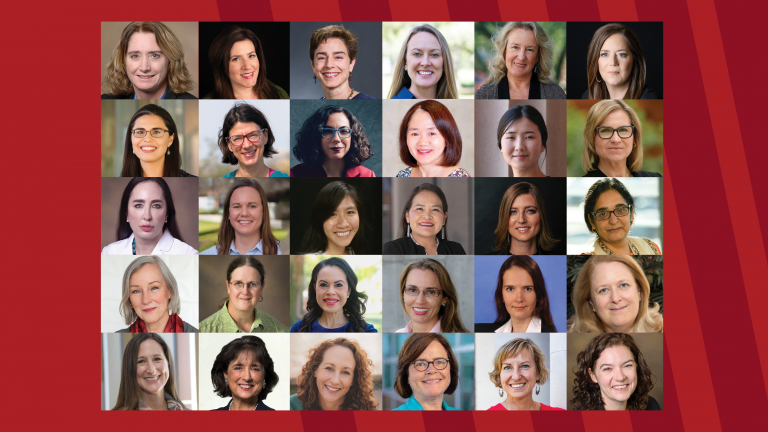 Cynthia Doane, Attending Veterinarian
Amanda Kraus, Assistant Vice President of Campus Life
Amelia Gallitano, Professor of Medical Sciences
Ashley Snider, Associate Professor of Nutritional Sciences
Carol Barnes, Regents Professor of Psychology, Neurology, and Neuroscience, Director of Evelyn F McKnight Brain Institute
Carol Stewart, Associate Vice President of Tech Parks Arizona
Daniella DellaGiustina, Assistant Professor of Planetary Sciences
Elise Gornish, Cooperative Extension Specialist of Natural Resources & Environment
Erika Hamden, Assistant Professor of Astronomy
Hong Hua, Professor of Optical Sciences
Hongyue Jin, Assistant Professor of Systems & Industrial Engineering
Jennifer Barton, Director of BIO5 Institute
Jennifer Carew, Associate Professor of Medicine
Jessica Barnes, Assistant Professor of Planetary Sciences
Judith Su, Assistant Professor of Biomedical Engineering & Optics
Karletta Chief, Associate Professor & Extension Specialist of Environmental Science, Historian of UArizona Native Faculty Association
Kim Patten, Assistant Vice President for Research Development
Lalitha Madhavan, Associate Professor of Neurology
Lee Ryan, Professor & Head of Psychology
Marcia Rieke, Regents Professor of Astronomy
Marla Franco, Assistant Vice Provost of Hispanic Serving Institution Initiatives
Meredith Kupinski, Assistant Professor of Optical Sciences
Olesya Zhupanska, Professor of Aerospace & Mechanical Engineering
Raina Maier, Professor of Environmental Microbiology
Allison Huff MacPherson, Assistant Professor of Family & Community Medicine
Roberta Diaz Brinton, Director & Regents Professor, Center for Innovation in Brain Sciences
Stacy Butler, Director of Innovation for Justice and Professor of Law
Susan Brown, Department Head & Professor of Management Information Systems
Theresa Crimmins, Research Professor of Natural Resources & Environment
Valerie Trouet, Professor in the Laboratory of Tree-Ring Research in the College of Science